Click on the Underlined or Highlighted Text Below For Details!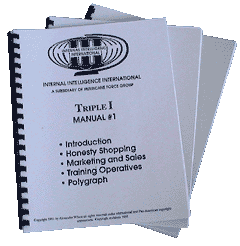 Have You Ever Thought About Becoming A Private Investigator?
Forget it!

You Can Become a
PROFESSIONAL
SECURITY CONSULTANT!

Ladies and Gentlemen:
Private Investigation is NOT where the BIG money is!
Oh Yes, there is money being made doing background checks, license checks and locating missing persons, but that's not where the BIG money is being made.

Today, to earn the BIG money, you must address and successfully meet and solve the dire Theft, Shoplifting, Employee Theft, Armed Robbery, and the BIG problems of businesses of all types and sizes by learning a profession that solves all business internal security problems automatically. SECURITY CONSULTING!
Yes, that's where all the BIG money is being made, but ... how do you learn to become a skilled professional this unique and profitable profession?

YOU LEARN FROM THE BEST OF THE BEST.

Yes, you can forget the terminology of private investigator.
It's passť'. It's over! it's finished! It's old-fashioned!
Today, you have to learn to become a Security Consultant and We Can Provide You With The Training Tools You Need!
The modern private or corporate Security Consultant solves all internal security problems of small and large businesses.

The specialties you will need and learn can be found in our proven-successful Security Consulting Home Study Program (Available Now for Only $149.00 including Shipping, Testing and Certification) to protect the financial assets of major corporations include, in the following areas:
Class Action Lawsuits
Information Gathering
Corporate Espionage
Risk Analysis
Strike Control
False Workers Comp. Claims

Harassment Claims
Improper EEOC Claims
Undercover Operations
Urban Terrorism Control
Eliminating Employee Theft
Polygraph Testing
CLICK HERE and for More Security Consulting Details and More!
If You Still Want to Become a Private Investigator,
CLICK HERE to E-mail USCCCNII American Focus and Ask For Complete Details.
You Can Also Become a
Covert Professional
Mystery, Honesty or Secret Shopper!
The modern day businessman wants and needs to know what's going on in his place of business when he's not there.
He needs a detailed report of what's going on. Secondly, if he is in the Bar and restaurant business, he needs to protect himself from and ever-growing range of criminals.
If a arrest is made in his place of business for illegal drugs, his license to do business could be revoked. If however, he can produce the written reports of undercover mystery shoppers, the average judge will be empowered to assume that he is trying his best to comply with the law.
YOU ... as a Trained Professional Covert Mystery, Honesty or Secret Shopper Can Do This as a Lucrative Career or as a Second Income Opportunity ...
and do your part to Help Business Owners Stay in Business!
For More Details on Training in the Following Professions
:
Covert Mystery, Honesty and Secret Shopping,
Insurance Investigation,
Corporate Executive Protection,
Polygraph and Suspect Deception Detection,
Becoming a Law Enforcement Officer,
Aircraft Theft and Aviation Crime Prevention,
Becoming a 911 Emergency Dispatcher,
Related Jobs - Careers and Second Incomes...
or Even A Business of Your Very Own!